Shop thousands of new and used cars, trucks, vans, suvs, motorcycles, boats, RV's and more from local dealers and private sellers throughout Minnesota, Iowa and Wisconsin.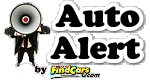 Can't Find What You're Looking For?
Have our AUTO ALERT system notify you as soon as they get listed.
How?
1. Do a NEW search for the specific make and model vehicle you're looking for.
2. Then, at the bottom of the search list, choose the

AUTO ALERT

button
3. Enter your email address and select 30 or 60 days.



That's it. You will be notified by email as soon as those vehicles get listed.
You may cancel at any time.